Please follow and like us: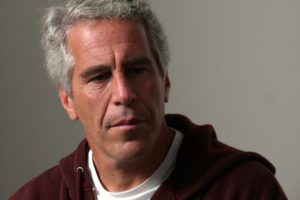 Donald Jeffries joined S.T. Patrick to discuss Jeffrey Epstein… but so much more. Unlike most episodes where there is a structure, Patrick and Jeffries came armed with one audio clip and one word: Epstein. That's where it started and they took off from there. In this discussion, they touch on Alex Acosta, Bill Clinton, Donald Trump, the Q theories, Ghislaine & Robert Maxwell, intelligence connections for both Epstein and the Maxwells, the Saudi royals, Honeytraps, Dennis Hastert, Bohemian Grove and the Cremation of Care, Moloch the Owl, Cannibalism, the Franklin Credit Scandal, Alicia Owen, Pizzagate, Dracula, Britney Spears, selling teens as sex symbols, Eyes Wide Shut, Penn State University and Jerry Sandusky, Cathy O'Brien and The Trance Formation of America, Alison Mack and NXIVM, and what in the world is really happening. This is a fascinating episode. Check it out!
Donald Jeffries is the author of the new Crimes and Cover-Ups in American Politics: 1776-1963. His blog is called Keeping It Unreal. He is also the host of the show I Protest.
You can buy every issue of garrison: The Journal of History & Deep Politics at http://www.lulu.com/spotlight/MidnightWriterNews
Please follow and like us:
Podcast: Play in new window | Download