Please follow and like us: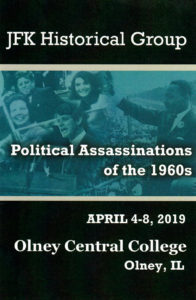 On April 4-8, 2019 researchers and attendees gathered in the small town of Olney, IL to discuss "Political Assassinations of the 1960s." Professor David Denton, Ed Tatro, Walt Boyce and the staff of Olney Central College served as the gracious hosts for what was a spectacular weekend of research, presentations, brainstorming, and planning. This is the recap of the 2019 JFK Historical Group Conference in Olney.
Visit the JFK Historical Group.
Buy the PDF e-version of "garrison.: The Journal of History & Deep Politics" (issue 001) today.
S.T. Patrick reviews Randy Benson's The Searchers.
S.T. Patrick reviews the L.A. Times review of John Barbour's documentary.
Please follow and like us:
Podcast: Play in new window | Download