Please follow and like us: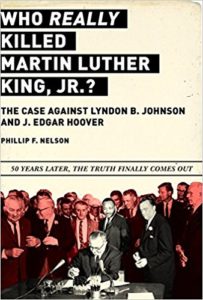 PHILLIP F. NELSON joins S.T. Patrick to discuss his newest release, Who Really Killed Martin Luther King, Jr.? The Case Against Lyndon B. Johnson and J. Edgar Hoover. Nelson, the author of three previous LBJ-related books, addresses whether or not this is his last LBJ work, his own memories of 1968, LBJ vs MLK, Hoover's FBI vs MLK, the best and worst of MLK scholarship, what led King to Memphis, what happened in Memphis, the role of Jesse Jackson, why James Earl Ray is innocent, and much more.
Phillip Nelson can be followed at LBJMastermind.com. His works can be found on his site, as well as on his Amazon page. Nelson can also be heard on the following MWN episodes:
Episode 025 – Remember the Liberty!
Episode 044 – LBJ The Mastermind of the JFK Assassination
Episode 045 – LBJ From Mastermind to The Colossus
Please follow and like us:
Podcast: Play in new window | Download