Please follow and like us: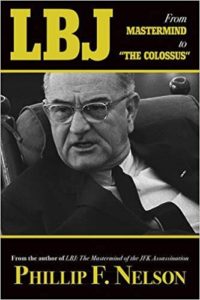 In Part Two of our two-part series on LBJ, PHILLIP NELSON, the author of LBJ: From Mastermind to the Colossus, joins S.T. Patrick to discuss LBJ's presidency from the moment shots were fired in Dealey Plaza to his surprising March 1968 decision to exit the presidential primaries. Nelson addresses LBJ's movements on November 22, 1963, Albert Thomas and "the wink picture," whether or not LBJ would have been kept on the 1964 Democratic ticket had JFK lived, the formation of the Warren Commission, the Mac Wallace fingerprint controversy, the origin of the battles with RFK, and much much more. Midnight Writer News would like to thank Phil Nelson for taking part in this two-part episode.
Phil Nelson can be followed at LBJMastermind.com.
Please follow and like us:
Podcast: Play in new window | Download