Please follow and like us: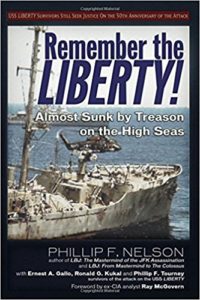 PHILLIP F. NELSON joins S.T. Patrick to discuss the June 1967 attack on the USS Liberty. Phil Nelson is the author of Remember the Liberty! Almost Sunk by Treason on the High Seas. Nelson not only lays out the Israeli attack on the American USS Liberty itself. As the author of two previous LBJ books, Nelson weaves the story through the Johnson administration and its corresponding events (i.e. Gulf of Tonkin). In conjunction with the attack, Nelson and Patrick also discuss the roles of Secretary of Defense Robert McNamara, John McCain Sr., McGeorge Bundy, Israel, the Six Days War, LBJ's 303 Committee, Operation Cyanide, Operation Mockingbird, and Senator John McCain Jr.
Nelson can be followed and contacted at LBJMastermind.com.
Please follow and like us:
Podcast: Play in new window | Download