Please follow and like us: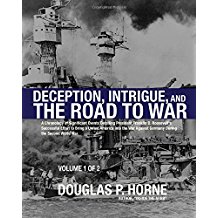 Author Douglas Horne (Deception, Intrigue, & the Road to War, Volumes 1 & 2) kindly agreed to allow Midnight Writer News to publish his PDF presentation regarding FDR and the foreknowledge that led to the December 7, 1941 attack at Pearl Harbor. Midnight Writer News would like to thank Horne for his contribution to the community of those searching for real historical truths.
Doug Horne can be followed at the Inside the ARRB blog. His works can be purchased on Amazon.com.
Horne discussed his work with S.T. Patrick on episode 007 of the Midnight Writer News Show.
Please follow and like us: