Please follow and like us: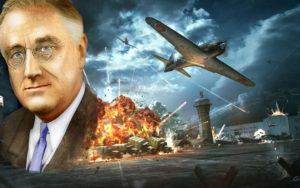 Douglas Horne, author of the two-volume Deception, Intrigue, and the Road to War, joins S.T. Patrick to discuss FDR's foreknowledge of the Japanese attack on Pearl Harbor on December 7, 1941.
Douglas P. Horne grew up in a military family—his father was in the Marine Corps—and graduated cum laude from The Ohio State University with a B.A. in History in 1974.  He spent 20 years working for the U.S. Navy in various capacities: 10 years on active duty as a Surface Warfare Officer and 10 more years as a Navy civil servant.  Doug spent over 14 years of his Navy service in Hawaii: he served on three U.S. Navy destroyers homeported in Pearl Harbor from 1976-1981, and was the Operations Manager in a Navy field office in Pearl Harbor, from 1985-1995.
Doug opted for a major career shift when he relocated to Washington, D.C. in 1995 to assume a position on the staff of the President John F. Kennedy Assassination Records Review Board (ARRB); as head of the Military Records Team on the ARRB, Doug oversaw the release of significant historical documents related to U.S. policy on Cuba and Vietnam during the Kennedy years, and he was the principal research assistant for the ARRB General Counsel during the Review Board's crucial depositions of ten (10) key JFK autopsy witnesses.
Mr. Horne retired from Federal Service in 2016, after working at the U.S. Holocaust Memorial Museum for 2 years, and after completing his civil service career by working with the U.S. State Department's passport division for the final 14 years of his 40-year Federal career.
Doug is the author of three books:
(1) The five-volume Inside the Assassination Records Review Board, about the U.S. government's cover-up of the medical evidence in the JFK assassination;
(2) The e-book JFK's War with the National Security Establishment: Why Kennedy was Assassinated; and
(3) His most recent work, Deception, Intrigue, and the Road to War, about FDR and Pearl Harbor, was published this year.
This is episode 007 of the
Midnight Writer News Show with S.T. Patrick
.
Please follow and like us:
Podcast: Play in new window | Download