Please follow and like us: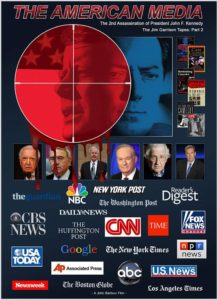 "Liars run for office…. Truth tellers run for their lives." — John Barbour, The American Media – The 2nd Assassination of President John F. Kennedy: The Garrison Tapes, Part Two.
As the 4th Annual JFK Assassination Conference drew to a close, around 300 invitees and locals attended a special screening of John Barbour's new documentary, The American Media – The 2nd Assassination of President John F. Kennedy: The Garrison Tapes, Part Two. The screening was held on Monday, November 21st at the Texas Theatre in Dallas. The Texas Theatre is the historic site where Lee Harvey Oswald was arrested for the murder of President John F. Kennedy on November 22, 2016. Attending the special screening were Crossfire author and researcher Jim Marrs, researcher Richard Bartholomew, and assassination witness Beverly Oliver. Gary Fannin, author of The Innocence of Oswald, assisted with the research on the documentary and was in attendance as well.
John Barbour wrote and directed part one of The Garrison Tapes (1992) following the success of Oliver Stone's JFK, which focused on the story of former New Orleans District Attorney Jim Garrison. Barbour was the only personality to conduct a comprehensive video interview with Garrison after the trial of Clay Shaw in 1969.
In The American Media, narrated by Barbour and co-produced with Myra Bronstein, Garrison's story is told once again, this time with an emphasis on the tragic double-cross of an NBC producer who doctored Barbour's interview with Garrison so that Garrison states a belief that there were 30 shooters in Dealey Plaza.
Barbour was angered to tears by the smear of Garrison and called Garrison, urging him to sue NBC using the conversation with the NBC producer that Barbour had recorded. Garrison, tired and somewhat accustomed to mainstream media tactics, told Barbour that he would not sue. Instead, Garrison told Barbour that he was a fan of Barbour's show and asked him for a couple of Real People t-shirts for his family. Because of his loyalty to Garrison and his distrust of NBC's editorial decisions, Barbour would lose his position with NBC and would soon fade from show business altogether. He did not, however, fade from the fight for Jim Garrison's honor and the truth regarding John F. Kennedy's assassination.
Barbour's documentary is a biting yet humorous indictment of the American mainstream media's approach to both Jim Garrison and the JFK assassination as a whole. The guilty parties fall like bowling pins fiercely struck by Barbour's truth regarding their complicity in covering up the conspiracy that still drapes the American spirit beneath a blanket of despair. The American Media indicts Noam Chomsky, Peter Jennings, CNN, the History Channel, Time and Life magazines, and Newsweek.
The sharpest criticisms are aimed at Texan and former CBS anchor Dan Rather and the former host of Inside Edition who then bravely reported pro-conspiracy pieces on the assassination, Bill O' Reilly. Now, as a Fox News host, O' Reilly keeps it pithy as he opines on the Kennedy assassination. His Killing Kennedy book followed the traditional line that Oswald acted alone.
The truth tellers of today about whom Barbour refers are figures such as whistleblower Edward Snowden and Wikileaker Julian Assange. Both men are currently on the run, so to speak, evading laws and governments worldwide. Their crime? Truth. Barbour must feel a certain kinship with Snowden and Assange. He, too, had much to lose when he sided with truth, and he, too, lost it.
The documentary is at its finest as it moves through the Garrison-Barbour story and transitions into the complicity of the MSM. Bronstein has paced the documentary well, and it builds to an emotional peak in a section entitled "The Carrot and the Stick."
Late in The American Media, Barbour is seen outside of the Justice Department in Washington, D.C. He has brought with him a "Wanted" poster naming those currently most responsible for the whitewash that has occurred for more than 50 years. It is effecting to see Barbour not just talking about culprits, but naming them and then taking them to the Justice Department on his own. While it would have been interesting to see or hear the results of what transpired while Barbour was inside, the point is made: Don't just research – do something! It is again a reminder that Barbour often finds himself alone in his pursuit, jaded by the acts of former colleagues and unsure whom to trust.
Barbour often says that a truly open-minded person has no beliefs. An admitted atheist, Barbour says that he is truly open-mined. However, spending time with Barbour proves this statement to be inaccurate. Barbour does have beliefs. He fervently believes in truth, justice, and Jim Garrison. When discussing Garrison and his legacy today, Barbour, 83, drifts from introspection to anger, from fiery rhetoric to soft tears. Barbour does not seem unhappy, per se. He is charming and charitable around friends, sweet and kind to admirers, and generously accessible to independent talk hosts who admire his work. Barbour is a man who always makes those around him feel important.
Barbour has never been an active part of the JFK assassination community, and he has never jockeyed for position and respect. He has worked alone with the help of only a few trusted associates who assist him out of their belief in and loyalty to the vision of John Barbour. Yet, the researchers who have done better, more important work on the assassination comprise a short list. If Barbour had only two shots to fire, The Garrison Tapes (1992) and The American Media – The 2nd Assassination of President John F. Kennedy: The Garrison Tapes, Part Two (2017) are canon blasts.
Please follow and like us: