Please follow and like us: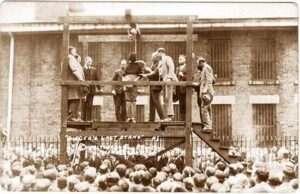 On this episode of the Midnight Writer New Show with S.T. Patrick, author Kevin Corley joins the host to discuss the Charlie Birger gang, the Shelton gang, Al Capone, Prohibition, the KKK, the last public hanging in Illinois, and how it all ties into the Herrin Massacre.
Kevin Corley is the author of 13 Steps for Charlie Birger and Bootlegger Heaven: The Shelton Gang Story.
To purchase garrison.: The Journal of History & Deep Politics, go to http://www.lulu.com/spotlight/MidnightWriterNews. If you'd like to support the efforts of the "Midnight Writer News Show" and garrison.: The Journal of History & Deep Politics, you can send donations via PayPal to [email protected]. Thank you to everyone who has supported the show and the magazine.
You can now listen to STP Radio: "Reliving your greatest memories, one song at a time" at www.wstpradio.com. There, you'll hear the best of the late 60s through the mid 90s, with some of the best national and local hosts available.
The new outro song is "Fallen Kingdom" by Bennie Knuckz, an independent artist in Miami.
Please follow and like us:
Podcast: Play in new window | Download