Please follow and like us: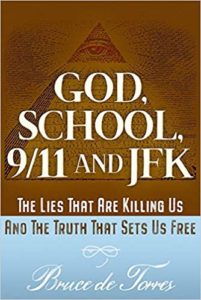 Author Bruce de Torres joins S.T. Patrick to discuss the new book, God, School, 9/11, and JFK: The Lies That are Killing Us and the Truth That Sets Us Free (available from Trine Day). Tonight's topics include why searching for truth is important, "beholding" and what it has to do with education, why children should be allowed to "free range," why parents fear "free-ranging children," how fear and insecurity motivates belief, why we fight moving from one historical camp to the other, why factions exist in the more "open-minded" JFK research community, what we lose if we just obey and follow along, and much much more.
GOD, SCHOOL, 9/11 AND JFK by Bruce de Torres exposes the lies that are killing us (we are poor, miserable sinners who deserve God's condemnation and school's incarceration; salvation and careers depend on doing what we are told) and the truth that sets us free (we are eternal love and consciousness, creating all we behold). The lies of 9/11 and the JFK assassination prove our government was hijacked by "elites," who strip our rights, wage wars of aggression, and accumulate unspendable riches as they seek to rule the world. The ideals of the American Founding enthrone our sovereignty, our right to be free and oversee a transparent and accountable government. What is seen by those who "die" and return suggests eternal life and safety. The truth restores our sanity, braces us to play this game of life, and allows us to love each other as ourselves as we create the solutions that we need. (from Amazon).
To purchase garrison.: The Journal of History & Deep Politics, go to http://www.lulu.com/spotlight/MidnightWriterNews. If you'd like to donate to the efforts of the "Midnight Writer News Show," you can send donations via PayPal to [email protected].
Please follow and like us:
Podcast: Play in new window | Download