Please follow and like us: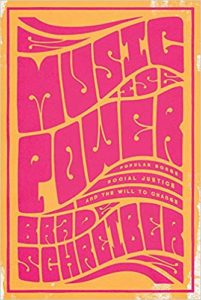 Author Brad Schreiber joins S.T. Patrick to discuss his new book Music is Power: Popular Songs, Social Justice, and the Will to Change. For two hours, Schreiber and Patrick discuss the impact of protest music (or more aptly, socially conscious music) on the culture and on their lives (while playing many of the songs discussed). Some of the topics discussed are the qualities that make up a socially conscious song, if American and British popular music working bottom-up made socially conscious music more plentiful, the Vietnam era, the misuse of Bruce Springsteen songs,  what "This Land Is Your Land" really means, The Man in Black, The Dixie Chicks versus "W," the impact of "the end of the Sixties," Marvin Gaye in 1970, whether the music of the 1980s is underrated as socially conscious music, and much more.
Brad Schreiber was on Episode 051 of the Midnight Writer News Show discussing Revolution's End: The Patty Hearst Kidnapping, Mind Control, and the Secret History of Donald DeFreeze and the SLA. He can be found at BrashCyber.com.
To purchase garrison.: The Journal of History & Deep Politics, go to http://www.lulu.com/spotlight/MidnightWriterNews.
Please follow and like us:
Podcast: Play in new window | Download