Please follow and like us: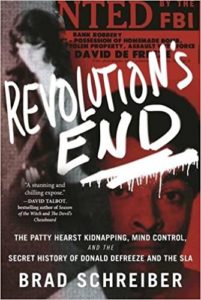 Author BRAD SCHREIBER joins S.T. Patrick to discuss his work, Revolution's End: The Patty Hearst Kidnapping, Mind Control, and the Secret History of Donald DeFreeze and the SLA. Schreiber takes a fascinating, alternative look at a story that has recently been told (wrongly, as Schreiber explains) by CNN's Jeffrey Toobin. While most of America believes the story centers on heiress Patty Hearst, Schreiber takes us inside California's prison system in the 1970's to discuss a tale of CIA infiltration, mind control, illegal smuggling, the Black Panthers, and Ronald Reagan's California. Schreiber also tells the sad, tragic story of murdered Oakland Superintendent of Schools Marcus Foster, as well as the lives and end of those who associated themselves with DeFreeze's SLA. But lest you think DeFreeze is a wholly unsympathetic character…. listen to Brad Schreiber tonight.
Brad Schreiber can be found at his homepage. His works can be found on his Amazon.com page, as well as other booksellers.
Please follow and like us:
Podcast: Play in new window | Download