Please follow and like us: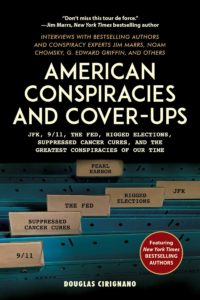 Interviewer Douglas Cirignano has compiled a series of 12 interviews for his book American Conspiracies and Cover Ups. He interviewed Robert B. Stinnett (Pearl Harbor), Barr McClellan (JFK Assassination), Dr. William Pepper (MLK Assassination), Joe Banister (Income Tax), G. Edward Griffin (The Fed), Dr. Alan C. Cantwell (Origin of AIDS), Dr. Ralph Moss (Cancer), Bev Harris (Voting), Charles Key (Oklahoma City Bombing), Noam Chomsky (MSM Control), Jim Marrs (New World Order), and David Ray Griffin (9/11). It's a good set of interviews, which are now published by Skyhorse in one collection. In this episode, S.T. Patrick asks Cirignano to take us through the process. Then, we hear a TedX talk from Matthew Dentith called "Just Because It's a Conspiracy Doesn't Mean It Isn't True." To wrap up, S.T Patrick asks why we are so angry and whom that benefits.
Douglas Cirignano can be found at his website American Conspiracies and Cover Ups.
For our free archives, go to MidnightWriterNews.com. To purchase garrison.: The Journal of History & Deep Politics, go to http://www.lulu.com/spotlight/MidnightWriterNews.
Please follow and like us:
Podcast: Play in new window | Download