Please follow and like us: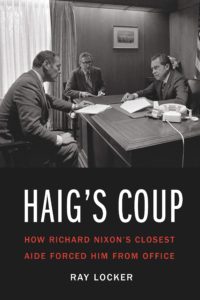 Author Ray Locker joins S.T. Patrick to discuss the new book, Haig's Coup: How Richard Nixon's Closest Aide Forced Him From Office. Locker delves into the role of General Alexander Haig in the administration of Richard Nixon. In this episode, Locker and Patrick cover Haig's actions through the end of May 1973. Was Al Haig a major player in the downfall of Nixon? This is part one of a two-part episode on Haig's Coup. Ray Locker was previously on the Midnight Writer News Show in episode 037 discussing Nixon's Gamble, his first book, the story of how Richard Nixon set up a new national security establishment that would create the conditions under which the Moorer-Radford spy ring took place. And yes, Haig was involved there, as well.
Haig's Coup can be found on Amazon and wherever important books are sold.
Please follow and like us:
Podcast: Play in new window | Download