Please follow and like us: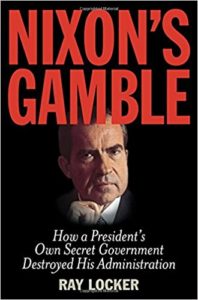 RAY LOCKER author of Nixon's Gamble, joins S.T. Patrick to discuss the risk President Richard Nixon took in sacrificing transparency and unity for secrecy and potential success. The gamble, Locker writes, was "to do it all in secret before the weight of the secrets crushed him." Locker addresses the reason for secrecy, changes in the national security apparatus, Nixon's trusted team, H.R. Haldeman, John Ehrlichman, John Dean, Alexander Haig, the Pentagon Papers, his thoughts on the Heidi Rikan call girl ring, and so much more.
Ray Locker is the Washington enterprise editor of USA TODAY. He works with reporters covering the Pentagon, health care, money in politics, veterans, and the Supreme Court. He is the author of Nixon's Gamble, which was published in 2015, and the upcoming Haig's Coup, which is due in fall 2018. He and his family live in Washington D.C.
Please follow and like us:
Podcast: Play in new window | Download