Please follow and like us: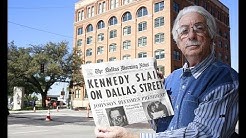 Rob Clark, host of The Lone Gunman Podcast, sits in to discuss the man who drove Lee Harvey Oswald to work on November 22, 1963, Buell Wesley Frazier. Rob brings his dogged search for factual information on the JFK assassination to MWN once again to give us the absolute truths behind the story of Buell Wesley Frazier.
Rob Clark's Lone Gunman Podcast can be heard HERE, as well as on most of the better podcatcher apps. Just do a search for "Lone Gunman Podcast." It's a great show, and we at Midnight Writer News are all fans.
Please follow and like us:
Podcast: Play in new window | Download