Please follow and like us: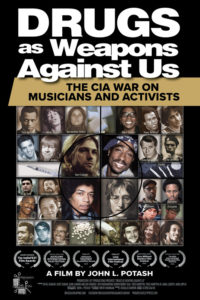 Author and Filmmaker John Potash joins S.T. Patrick to discuss the ways in which the CIA has used drugs to de-radicalize musicians and activists. On this episode, Potash discusses the opium trade and how it influenced the Ivy League universities, the rise of secret societies, how and why the CIA got into the culture business, Acid Tests, Timothy Leary, Ken Kesey, Eldridge Cleaver, why Timothy Leary went to Algeria, how the Black Panthers were infiltrated by Elaine Brown, and more on the suspicious deaths of Janis Joplin, Jimi Hendrix, and John Lennon.
John Potash is the filmmaker behind Drugs as Weapons Against Us: The CIA War Against Musicians and Activists and the author of Drugs as Weapons Against Us: The CIA's Murderous Targeting of SDS, Panthers, Hendrix, Lennon, Cobain, Tupac, and other Leftists.
Please follow and like us:
Podcast: Play in new window | Download