Please follow and like us: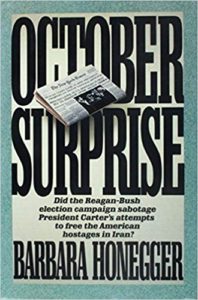 Barbara Honegger joins S.T. Patrick to discuss her book The October Surprise: Did the Reagan-Bush Election Campaign Sabotage President Carter's Attempts to Free the American Hostages in Iran? Honegger discusses her work and associations within the 1980 Reagan-Bush campaign and her position at the White House from 1981-1983. Why is the October Surprise important today? Whom did she most admire in the Reagan White House? When did she first suspect a secret deal had been made? Was there a 53rd hostage? Why is the situation called the October Surprise? How and at what point were the Israelis brought into the arms transactions? Who was William Casey in 1980? What was the importance of Houshang Lavi? Did Carter believe he had a secret deal, himself, in October 1980? What happened at the seminal Paris meeting in October 1980? And so much more!
The October Surprise can be purchased at Amazon and at other fine booksellers.
Barbara Honegger has become one of the of the world's leading experts on 9/11, and especially the situation at the Pentagon ('Behind The Smoke Curtain: What Happened at the Pentagon on 911, and What Didn't, and Why It Matters') , but the thing that I first noticed was her 1989 book The October Surprise (1989). Barbara Honegger worked as a researcher at the Hoover Institution before joining the Ronald Reagan campaign as a researcher and policy analyst in 1980. Honegger headed Reagan's gender discrimination agency review before resigning in August, 1983. While working for Reagan she discovered information that convinced her that George H.W. Bush and William Casey, Reagan's first CIA director,  had conspired to make sure that Iran did not release the U.S. hostages until President Jimmy Carter had been defeated in the 1980 presidential election. Honegger took a lot of fire for this work. She was the first to release a book on the October Surprise. Over the years, much of her work has been confirmed by formerly classified documents and deathbed confessions of the then head of French Intelligence and one of the key CIA covert operators involved.
Barbara Honegger and Bonnie Faulkner, host of the 'Guns and Butter' Radio Show on the Pacifica Network, host a video walking tour of the official Sept. 11th Museum at Ground Zero that uses the actual exhibit items in the Museum itself to prove that the official 9/11 story is false.  It is currently available for viewing on YouTube.
Please follow and like us:
Podcast: Play in new window | Download