Please follow and like us: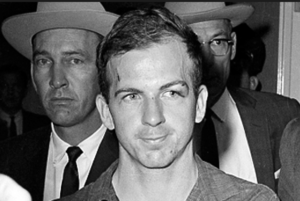 Author Gary Fannin and Juliet Toth, the guests from episode 001, return for the 100th episode of the Midnight Writer News Show. And with episode 100, we return to the subject of Lee Harvey Oswald. Juliet Toth conducts Oswald-centric tours of New Orleans, visiting the places LHO worked and live throughout his stay in the Big Easy. Gary Fannin is the author of The Innocence of Oswald and the director of the documentary with the same name. Tonight, Fannin joins S.T. Patrick to discuss the successes of the 2018 JFK assassination conference, the history of Campisi's, Fannin's memories of his first trip to Dealey Plaza, troubles with Amazon.com, the success of The Innocence of Oswald, what it's like to get praised by the authors he had admired for so long, why Oswald left the TSBD to go home and grab a gun, where he might have been going had he made it out of the Texas Theatre, guessing the shooters, and much more.
Gary Fannin's book and DVD can be purchased as a set at The Innocence of Oswald website.
To inquire about one of Juliet's Oswald Tours of New Orleans, e-mail [email protected].
Please follow and like us:
Podcast: Play in new window | Download