Please follow and like us: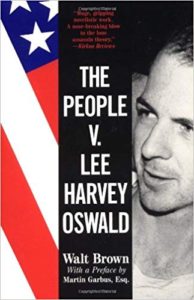 On the first episode of the second annual Midnight Writer News JFK Month, researcher and author Dr. Walt Brown joins S.T. Patrick to discuss the JFK assassination. Dr. Brown addresses his own entrance into the community, Lee Harvey Oswald's chances for acquittal had their been a trial, his correspondence with Vincent Bugliosi, whether Clay Shawn owned a 1962 Rambler station wagon, the Russian presence surrounding the Oswalds in Dallas, creating the Global Index to the JFK Assassination, compiling the Master Chronology, Jay Harrison and the the destinations of Harrison's files, Dr. Brown's last conference, his view of the conferences, and some of the more…. unique…. conference experiences (e.g. Harrison Edward Livingstone).
Dr. Walt Brown is the author of The People v. Lee Harvey Oswald, Treachery in Dallas, The Warren Omission, the Global Index to the JFK Assassination, the Master Chronology of the JFK Assassination, and many more articles and essays. He is currently the publisher of JFK/Deep Politics Quarterly. For inquiries on ordering the Index, Chronology, or JFKDPQ, Dr. Brown has asked that those interested contact him by email at kiasjfk (at) aol (dot) com.
Dr. Brown's essay "Did Clay Shaw Own a 1962 Rambler?" can be found here.
Please follow and like us:
Podcast: Play in new window | Download