Please follow and like us: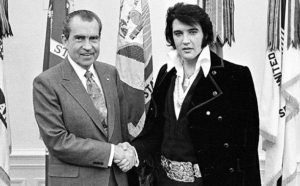 Author STEVE UBANEY joins S.T. Patrick to discuss the fifth anniversary of Ubaney's Who Murdered Elvis? book. In the newest edition, Ubaney added close to 70 new pages of information. He joins the Midnight Writer News Show to discuss the newer discoveries, the losses of 2016 and 2017, the toxicology anomalies, what surprised him most about the life of Elvis, why Elvis met Nixon – and why it matters, the heavy hand of Col. Tom Parker, the legitimacy of the marriage of Elvis and Priscilla, and more.
Steve Ubaney's books can be purchased at Forbidden History Books.
Please follow and like us:
Podcast: Play in new window | Download