Please follow and like us: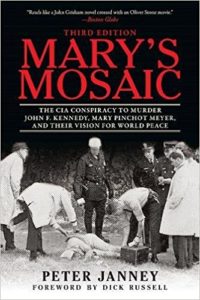 Author PETER JANNEY joins S.T. Patrick to discuss the murder of Mary Pinchot Meyer. Janney also addresses the rise of the CIA both domestically and in his own home, Operation Mockingbird and CIA ties to the mainstream media, the life and personality of Mary Meyer, JFK's young attraction to Mary and the evolution of that bond, JFK and Mary in 1960, Mary's interest in LSD and how her artistic inclinations influenced her leisure options, the murder of Mary Meyer, why the story is important, and much more.
The website for Peter Janney's Mary's Mosaic can be found here. The book can also be purchased on Amazon, as well as other fine booksellers.
Please follow and like us:
Podcast: Play in new window | Download