Please follow and like us: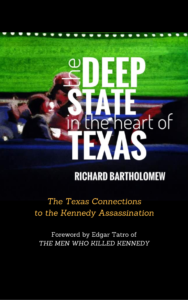 RICHARD BARTHOLOMEW, the author of the upcoming The Deep State in the Heart of Texas, joins S.T. Patrick once again to discuss his essay "The Deep Political Realities of the U.S. General Election." What would a pro-conspiracy candidate have to do to affect change from the White House? What two camps have divided all of our major political candidates since 1960? Who repeatedly saved the JFK Records Act from expiring? What is the truth behind the 1993 Travelgate scandal? How did Carl Oglesby link to the 2016 presidential campaign? What did Vince Foster's death mean to the Clintons? Which administration official was referred to as "GK," and why is it important? Richard Bartholomew addresses all of these issues and more on this episode of the Midnight Writer News Show.
Richard Bartholomew is the co-founder of the Center for Deep Political Research.
Please follow and like us:
Podcast: Play in new window | Download