Please follow and like us: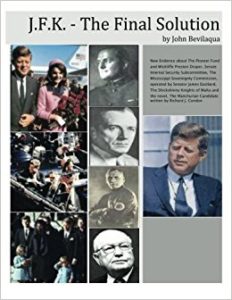 JOHN BEVILAQUA joined S.T. Patrick to discuss the assassination of President John F. Kennedy through the lens of the far right wing of American politics. The focus of the interview centers on Richard Condon's "dirty dozen," the Winnipeg airport incident, and the Raleigh phone call. However, Bevilaqua also traces the far right movement from the eugenics movement of the early 20th century through the 1980s. In what is an episode of amazing links that touch on many of the seminal events of the century,  Bevilaqua touches on the 1936 Olympic games, the Back-to-Africa movement, the American Nazi conference at Madison Square Garden in 1939, the Koch family, the assassination of Sen. Huey Long, Alton Ochsner, Sr., the fathers of Pat Buchanan and Pat Robertson, the Texas oil connections, the coup attempts against FDR, Gen. Smedley Butler and the Asheville Conference, Ike's Farewell Address, Gen. Pershing & Pancho Villa, Skull & Bones, the deeds of Roy Hargraves, personal encounters with FBI agent James Hosty and Marina Oswald, the role of Catholicism in the case, Francis Cardinal Spellman, escaping Nazis, a conversation Bevilaqua had with Fletcher Prouty at the 1994 COPA conference, the role of LBJ, and so much more!
Bevilaqua explains the involvement of those he calls "Richard Condon's Dirty Dozen": Hugh Angleton, Ray S. Cline, Robert Morris, Maj. Gen. Charles Willoughby, Gen. Douglas Macarthur, William F. Buckley, Brig. Gen. Bonner Fellers, Wickliffe Draper, Anastase Vonsiatsky, Rev. Gerald L.K. Smith, Dr. Revilo P. Olliver, and Maj. Gen. Edwin Walker.
John Bevilaqua's JFK: The Final Solution can be purchased on Amazon.
Please follow and like us:
Podcast: Play in new window | Download