Please follow and like us: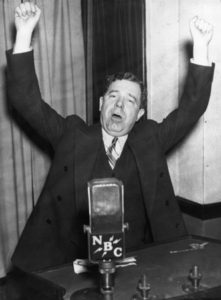 DONALD JEFFRIES joined S.T. Patrick to discuss the life, career, ideas, and assassination of Huey P. Long, the self-titled "Kingfish." Long was maybe the most charismatic, bombastic politician of the first half of the 20th century, yet, in many ways, he was also the most creative and the most radical. A Democrat who went head-to-head with the Rockefeller's Standard Oil Company in Louisiana, he rose to Governor and then to U.S. Senator, only to see his life ended with assassination when he began attacking President Franklin D. Roosevelt. Jeffries devoted an entire chapter of his groundbreaking book Survival of the Richest to Long's amazing story, Listen to Jeffries describe why America still needs a Huey Long – and now more than ever.
Jeffries can be heard on episode 004 and episode 020 of the Midnight Writer News Show. He can be followed on his blog, Keeping It Unreal. His books can be purchased at Amazon.com. Jeffries is the author of Hidden History and Survival of the Richest, which we recommend highly.
Please follow and like us:
Podcast: Play in new window | Download