Please follow and like us: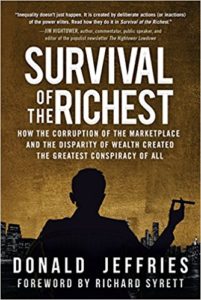 DONALD JEFFRIES joins S.T. Patrick to discuss Survival of the Richest, Jeffries' newest work on income disparity and the problems of the widening gap between rich and poor. Lest you think this is an economic show of finance and numbers, it is not. Jeffries talks about the working conditions of the average employee, the failures of the revolving door board rooms, the problem with the popularity of college, why Huey Long is his political hero, and more. Before Donald, we spoke to JOHN GOODWIN of Galaxy Press about the newest Jim Marrs booklet they have offered – for free – to Midnight Writer News readers.
Donald Jeffries is the author of Hidden History and can be read and contacted at his Keeping It Unreal blog. He also joined us on episode 004 of the Midnight Writer News Show with S.T. Patrick to discuss Hidden History.
Please follow and like us:
Podcast: Play in new window | Download