Please follow and like us: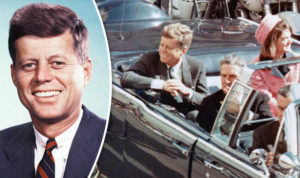 CARMINE SAVASTANO joined S.T. Patrick to discuss the JFK Assassination. Carmine Savastano addressed his entrance into the JFK assassination community, a 21-page CIA report on assassination procedures that he found in 2013, how these procedures potentially help build Lee Harvey Oswald as the patsy, the Thomas Casasin story, CIA and FBI interest in Oswald, Marina's possible intel ties, the means and motives of Priscilla Johnson McMillan, whether or not Kennedy used the mob to try to kill Castro, Richard Cain, Mexico City, Michael & Ruth Paine, the LBJ angle, Allen Dulles – The Resigned or Fired controversy, how Dulles was chosen for the Warren Commission – and who chose him, and the very popular assassination story that Carmine believes is pure mythology. All this and more in an outstanding chat with Carmine Savastano!
Carmine Savastano can be read at TPAAK.com. His book, Two Princes and a King: A Concise Review of Three Political Assassinations, can be purchased on Amazon as well as other fine online booksellers.
The articles Carmine Savastano and S.T. Patrick discussed in the interview can be found here:
Reference 1: Central Intelligence Agency, A Study of Assassination, George Washington University, nsarchive2.gwu.edu, (n.d.)
https://nsarchive2.gwu.edu/NSAEBB/NSAEBB4/docs/doc02.pdf
Transcription of "A Study on Assassination":
https://nsarchive2.gwu.edu/NSAEBB/NSAEBB4/ciaguat2.html
Reference Article 1: The CIA Man who considered using Oswald
https://www.tpaak.com/tpaak-blog/2017/9/14/the-cia-man-who-considered-using-oswald
Reference Article 2: The Power of the Press
https://www.tpaak.com/tpaak-blog/2017/12/3/the-power-of-the-press
Reference 2: Senate Select Committee on Intelligence Activities, Miscellaneous Records, Preliminary Report of Investigation into the Assassination of President Kennedy, February 20, 1976
https://www.maryferrell.org/showDoc.html?docId=1464&relPageId=38&s
Reference Article 3: The Castro Coffee Story
https://www.tpaak.com/the-castro-coffee-story/
Please follow and like us:
Podcast: Play in new window | Download