Please follow and like us: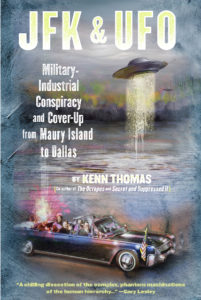 KENN THOMAS joins the Midnight Writer News Show to talk to S.T. Patrick about the 1947 Maury Island UFO incident and how it led to Dallas and the JFK assassination in 1963? Who are Fred Crisman and Harold Dahl? Who did Jim Garrison believe was the Grassy Knoll shooter? What was Guy Bannister doing in the Pacific Northwest? What's the theory regarding Lee Harvey Oswald and mind control? What are Kenn's thoughts on Mae Brussell and William Cooper? How did the study of parapolitics and conspiracy lead to Kenn writing Trumpocalypse Now?
Kenn Thomas is for former publisher and editor of Steamshovel Press. He is the author of JFK & UFO: Military Industrial Conspiracy and Cover Up from Maury Island to Dallas; Mind Control, Oswald, & JFK; NASA, Nazis, & JFK; The Octopus: The Secret Government and the Death of Danny Casolaro; Parapolitics: Conspiracy in Contemporary America; and his newest book Trumpocalpse Now! The Triumph of the Conspiracy Spectacle. All of Kenn's books can be found at Amazon.
Please follow and like us:
Podcast: Play in new window | Download