Please follow and like us: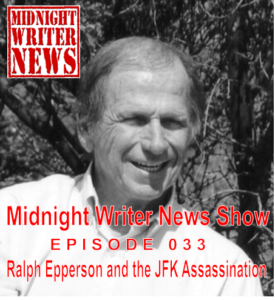 RALPH EPPERSON has allowed the Midnight Writer News Show to use the audio from one of his most requested DVD's, The Kennedy Assassination: Conspiracy and Cover Up. Ralph's presentation was given in June of 1992. This is the first in what will be an ongoing series of legendary presentations designed to preserve the work of those researchers and authors who did most of their work in the pre-internet eras. In 2018, MWN will do more of these. We want to give you, our listeners, and opportunity to download and keep these presentations for yourselves. We should all pay homage to those who came before us, and that is what we shall do. Please, however, remember that the information, audio quality, and opinions will also be dated. They are slices of a bygone era, signs of the times. Please be understanding of that. We believe, however, that you will enjoy them as we do. Thank you all.
Ralph Epperson's DVD's can be ordered at Ralph-Epperson.com. He is the author of 1982's The Unseen Hand, 1990's The New World Order, and some great work on the mysteries regarding the outlaw Jesse James.
Please follow and like us:
Podcast: Play in new window | Download