Please follow and like us: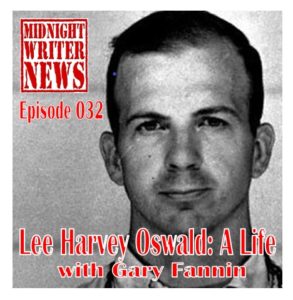 GARY FANNIN joined S.T. Patrick to discuss the life of Lee Harvey Oswald (1939-1963). Fannin covers Oswald's childhood, as well as his time in the Marines, Japan, Russia, New Orleans, Mexico City, and Dallas. What were his duties in Japan? What was the purpose of the trip to Russia? Was his relationship and marriage to Marina Prusakova set up by intel? Why was he in New Orleans in 1963? Was he a Marxist-Leninist? Was he a good shot? Did he kill Officer J.D. Tippit? .. and more! Join us for episode 032 of the Midnight Writer News Show with S.T. Patrick.
Gary Fannin is the author of The Innocence of Oswald: 50+ Years of Lies, deception, & Deceit in the Murders of President John F. Kennedy and Officer J.D. Tippit.  He can be followed at The Innocence of Oswald website.
Please follow and like us:
Podcast: Play in new window | Download