Please follow and like us: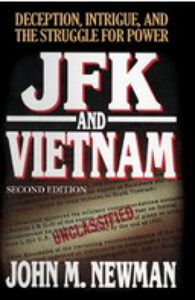 DR. JOHN NEWMAN joins S.T. Patrick to discuss the 2017 updated and expanded edition of his classic work, JFK & Vietnam. Dr. Newman's work was the main inspiration for the Vietnam sections of Oliver Stone's JFK. We recorded nearly three hours of material with Dr. Newman, but we have decided to divide the recording into two episodes – this one and an episode on JFK, Oswald Cuba, and the CIA, which we will air in October. In this episode, Dr. Newman details the situation in Vietnam that was inherited by Kennedy's new administration, Kennedy's intentions, the idea of Vietnam as unwinnable, the war with the Joint Chiefs, and the evolution of Dr. Newman's relationship with Robert McNamara.
Dr. Newman can be read and contacted at www.jfkjmn.com.
Please follow and like us:
Podcast: Play in new window | Download