Please follow and like us: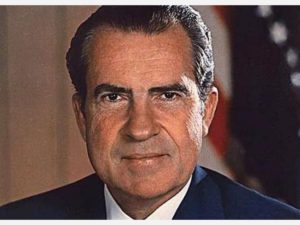 The Reagan Revolution was underway and it had been close to 15 years since America had first believed that the Watergate cover-up brought down the presidency of Richard Nixon. The GOP had taken its requisite throttling in 1976, but it had come back triumphant in 1980 when Ronald Reagan defeated Jimmy Carter.
The Washington Post had all but taken de facto ownership of the story. Bob Woodward and Carl Bernstein's All the President's Men (1974) had become a best-seller and a major motion picture (1976). Jason Robards had won an Oscar for his portrayal of the Post's Ben Bradlee. Woodward and Bernstein had published The Final Days (1976) as a silhouette of a president that had become ultimately unhinged. It was their final punctuation on the story that had created heroes in John Dean and Alexander Haig.
This was not America's Watergate; this was The Washington Post's Watergate. Deep within the golden hallows of Woodward's mind, Deep Throat remained hidden to DC politico-analysts clamoring for the day Woodward would bless them with the factoid of all factoids – Deep Throat's identity.
Len Colodny and Robert Gettlin spent a better part of the Reagan and Bush 41 terms developing a work that would inflict on The Washington Post its most devastating Watergate-related blow. Silent Coup: The Removal of a President (1991) changed the way America thought about Watergate, the Nixon presidency, John Dean, Alexander Haig, Bob Woodward, and Deep Throat.
While Colodny and Gettlin conducted hundreds of interviews lasting thousands of hours, the one that proved predictably elusive was that of the former president himself. Colodny had developed a close, respectful relationship with Nixon's former attorney general, John Mitchell. The relationship was so amiable that Mitchell agreed to aid in the attempt to get Nixon together with Colodny.
For Colodny, landing the Nixon interview proved to be much more difficult than debunking Woodward's Deep Throat myth. An October 21, 1988 letter from the former president's assistant John H. Taylor – addressed to Colodny, Gettlin, and Mitchell – confirmed that Nixon had received and had reviewed the material that would become Silent Coup.
"Finally (Nixon) has concluded," Taylor wrote, "…that for many reasons he cannot become involved directly in the project." Colodny told Midnight Writer News that he believes Nixon did not grant the interview request "mainly because of the Haig part of the book."
Silent Coup implicated Haig as the leading chess player in the political game that forced Nixon to resign. In this process, Woodward was used by Haig, who Secretary of Defense Melvin Laird confirmed Woodward had briefed in the late 1960s. Haig had been appointed to serve as Nixon's Chief of Staff after H.R. Haldeman had been forced to resign in April 1973. Woodward then co-authored The Final Days, which lionized Haig.
Midnight Writer News contends that Woodward's emphasis of the Deep Throat phrase "Follow the Money" was in part a tactic used to take any potential spotlight off the deep state machinations of Haig. Woodward may have believed that if the public remembered and focused on the catchy phrases of his mysterious source on deep background, their critical lenses will have avoided the political motivations (the silent coup of Silent Coup) of Nixon's resignation altogether.
Taylor affirmed that Nixon's declining of an interview was not due to a lack of diligence on the part of Mitchell. "Nor should you think," Taylor wrote, "(Nixon) is issuing an implicit judgment on your conclusions by declining to speak with you."
It was not the last time Colodny heard from the former president. A December 23, 1991 letter from Nixon to Colodny contained a handwritten message: "Congratulations on your long stay on the best seller list! -RN." How impressed was Nixon with Silent Coup upon its release? Despite the objections of Haig, Nixon allowed Silent Coup: The Removal of a President to be sold at his presidential library.
Silent Coup celebrated its 25th anniversary with a new edition in 2016. Midnight Writer News and S.T. Patrick hosted Len Colodny on the third episode of the Midnight Writer News Show. Colodny's work, including the Taylor and Nixon letters, can be found both at Watergate.com and within the Colodny Collection, housed at Texas A&M University.
Please follow and like us: