Please follow and like us: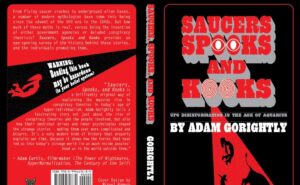 On Episode 166 of the Midnight Writer news Show with S.T. Patrick, Adam Gorightly joins S.T. to discuss his newest book, Saucers, Spooks, & Kooks: UFO Disinformation in the Age of Aquarius. On this episode, Patrick and Gorightly talk about the Dulce controversies, recent government-approved UFO revelations and what they might mean, the trajectories and parallels of both the UFO and JFK assassination research fields, John Lear, Stanton Friedman, and more.
This will be the last free episode of the Midnight Writer News Show. All past episodes will still remain free at MidnightWriterNews.com and on your regular podcatcher feeds – and we will continue to recycle those, beginning with episode one, for those services that only keep the last 50 to 100 episodes active, but we will start producing new episodes at our Patreon site at https://www.patreon.com/MidnightWriterNews.
To purchase garrison.: The Journal of History & Deep Politics, go to http://www.lulu.com/spotlight/MidnightWriterNews. If you'd like to support the efforts of the "Midnight Writer News Show" and garrison.: The Journal of History & Deep Politics, you can send donations via PayPal to [email protected]. Thank you to everyone who has supported the show and the magazine.
Please follow and like us:
Podcast: Play in new window | Download