Please follow and like us: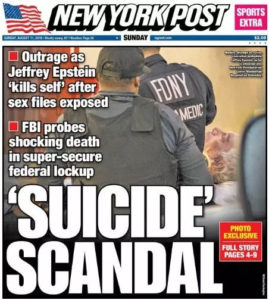 Author Donald Jeffries joins S.T. Patrick to discuss the death of Jeffrey Epstein. In this episode, recorded one day after the death, Jeffries and Patrick discuss the first reports from the mainstream media, prison conditions and cameras, suicide watch, the MSM backlash from The Daily Beast on day one, Arkancide, Trump's reaction, Q Anon and the faked death theory, the photographic comparisons, Joe Scarborough and Seth Abramson's Red Scare tweets, and much more.
Donald Jeffries is the author of the new Crimes and Cover-Ups in American Politics: 1776-1963. His blog is called Keeping It Unreal. He is also the host of the show I Protest.
You can buy every issue of garrison: The Journal of History & Deep Politics at http://www.lulu.com/spotlight/MidnightWriterNews
Please follow and like us:
Podcast: Play in new window | Download