Please follow and like us: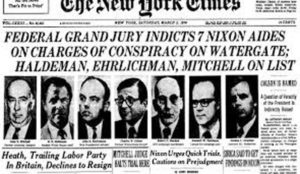 Late in the evening on June 17, 1972, E. Howard Hunt made a nervous, worried call to his friend, attorney DOUGLAS CADDY. Caddy invited him over to discuss the concern – five burglars that Hunt and G. Gordon Liddy had supervised had just been arrested for breaking in to DNC offices at the Watergate. This evening would forever change American history. Caddy would then serve as the original attorney for Hunt, Liddy, and the Watergate Five. Tonight, he joins S.T. Patrick to tell his story. Caddy's view of Watergate is a unique one that only he can tell. Here, he discusses the Hunt phone call and the following meeting, working with John Dean, his contentious relationship with Judge John Sirica, the two sides of Carl Shoffler, refusing to answer the grand jury's questions, the request of Tony Ulasewicz, Hunt's plea, James McCord's letter, Robert Merritt, and much more.
Douglas Caddy is the author of Being There: Eyewitness to History from Trine Day.
Please follow and like us:
Podcast: Play in new window | Download