Please follow and like us: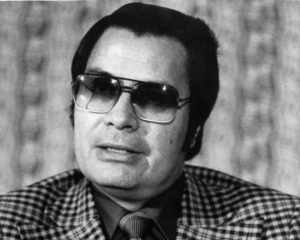 Legendary researcher MAE BRUSSELL is the focus of our fourth installment of the Midnight Writer News Legends Series. In this episode – an airing of her 365th and 366th episodes – Mae focuses on Reverend Jim Jones and the Jonestown massacre in Guyana. Just close to two weeks after the massacre, it is amazing how much information Mae had already gathered. These were the first two episodes of a five-episode concentration on Jonestown. She would come back to the topic on future episodes. Interesting to JFK researchers, she has some pretty pointed things to say about Mark Lane, who was one of Jonestown's attorneys and was in Guyana when the massacre occurred. The MWN Legends Series was created to pay homage to the researchers and authors who have paved the way for so many of us. Therefore, Midnight Writer News and S.T. Patrick would like to thank Mae Brussell (1922-1988) for her work and her spirit.
If you would like further information on Mae Brussell, you can visit WorldWatchers.info and MaeBrussell.com.
Please follow and like us:
Podcast: Play in new window | Download