Please follow and like us: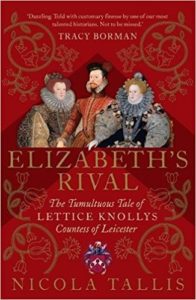 NICOLA TALLIS joined S.T. Patrick to discuss one of the greatest losses of Queen Elizabeth I's life – that of her favorite suitor Robert Dudley, the Earl of Leicester. Elizabeth didn't lose him to death. She lost him to another woman, Lettice Knollys. Who was Lettice Knollys and why did the Earl choose her over the Queen? What was Elizabeth's reaction? Why did Elizabeth choose a life and a reign that would be conducted alone? In the final thoughts, S.T. Patrick discusses how we look at affairs historically and today.
Nicola Tallis' work can be perused at NicolaTallis.com as well as on Amazon and many other fine booksellers.
Please follow and like us:
Podcast: Play in new window | Download