Please follow and like us: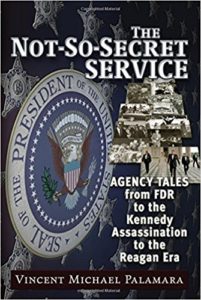 Vince Palamara joins S.T. Patrick to discuss the insider perspective of the Secret Service from JFK through the Clintons. Special attention is paid to Palamara's main area of expertise – the Secret Service and the JFK Assassination.
Palamara is the author of Survivor's Guilt: The Secret Service and the Failure to Protect President Kennedy, JFK: From Parkland to Bethesda, and The Not-So-Secret Service: Agency Tales from FDR to the Kennedy Assassination to the Reagan Era. New material from Vince Palamara can be read at Vince Palamara's Main Secret Service Blog: JFK, the Kennedy Detail, and More.
On episode 008 of the Midnight Writer News Show, Palamara discusses the history of the Secret Service, the failures of the JFK assassination, the Driver-Shot-JFK theory, the mysterious pre-Dallas death of an agent, JFK's brain, Watergate, Squeaky Fromme's attack on Gerald Ford, the emergence of John Hinckley, Jr. on the Secret Service radar, and more! Listen or download today!
Please follow and like us:
Podcast: Play in new window | Download