Please follow and like us: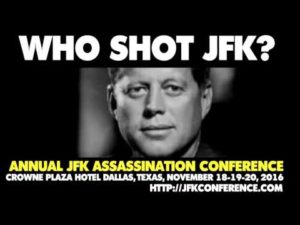 Day two of the 4th Annual JFK Assassination Conference in Dallas continued on November 19th at the Crowne Plaza Hotel, blocks from Dealey Plaza.
Larry Schnapf spoke on behalf of the Citizens Against Political Assassinations (CAPA). He urged for continuing advocacy and asked for involvement.
A witness panel for Lee Harvey Oswald and Judyth Vary Baker included Ray Hale (speaking for Jim Bothelo, a one-time Oswald roommate), Victoria Hawes, and Angela Nobile.
Gary Powers, Jr., presented the story of his father, Francis Gary Powers, the U-2 pilot shot down over Russia in 1960. Powers was interesting, entertaining, and informative as he presented a clear, unbiased, sobering perspective on the U-2 incident. Powers understood that there are other theories on certain aspects of the flight and the U-2 project. He stated that he is open to changing his understanding if corresponding evidence is revealed. Greg Gregory, 94, then spoke about the U-2 program at large.
Richard Bartholomew delivered a presentation entitled "Mac Wallace – The Fingerprints." Much of his presentation was a counter to Joan Mellen's re-examination of the fingerprints and her theory that they are not those of Wallace. Batholomew contends that Mellen's re-test is "junk science." The fingerprint was found on a box taken from the sixth floor of the Texas School Book Depository. It was not released until 1998.
Legendary TV personality John Barbour was introduced by JFK assassination historian Gary Fannin, author of The Innocence of Oswald. Barbour used a perfect mixture of comedy and passion that brought the crowd to a standing ovation when he finished. Barbour was the only person to interview Jim Garrison after the trial of Clay Shaw.
Jim Marrs may be the best-known JFK assassination researcher in America. The conference hall was standing room only to witness the Barbour, Marrs, and Wecht presentations. Marrs used his familiar Texas humor and incredible knowledge to wow the crowd. Marrs named the Grassy Knoll shooter (Roscoe White), warned against trusting computer re-enactments, and said that he was still undecided on the story of James Files. In trying to explain the Kennedy assassination on a bigger scale, Marrs said, "John F Kennedy was shaking up the status quo, and the status quo shook back!"  Immediately after, Marrs was surrounded by conference goers buying books and seeking autographs.
Dr. Cyril Wecht gave a stirring presentation of the pathological evidence that, Wecht said, "shows there are two shooters, which shows there is a plot." Explaining the purpose behind the murder of the president, Wecht said, "This was an overthrow of the government… it was a coup d'etat in America."
Phil Nelson is an author of two fantastic books on the presidency of Lyndon B. Johnson. On day two of the conference, he spoke about the attack on the USS Liberty by the Israelis. Nelson will release a book on the topic by the end of 2018. Nelson believes it was a false flag operation executed for the purpose of blaming Egypt (Nasser) to show Jewish supporters that LBJ would go to war on the side of Israel .
Peter Janney had an unenviable position of following a line of great speakers. He also had the task of fighting an uphill battle. The JFK assassination research field is a bit of a field that eats its young. Janney's terrific work, Mary's Mosaic, details the affair and strange deaths of JFK and Mary Pinchot Meyer. Mary was married to the CIA's Cord Meyer, who was implicated in the E. Howard Hunt tape. Some researchers have their own theories, which they will always say are confirmed by facts and facts only. Then, they take part in an unceremonious bashing of the researcher. Janney is at the current sharp end of the spear for a few researchers. The Midnight Writer News staff, however, liked Janney's book and at least finds his book interesting. It is possible for researchers to take some and leave some from a book. It should not be an all or nothing practice.
Ole Dammagard used his trademark humorous international style to discuss false flag events and conspiracies. Dammagard used a visual presentation to show images from a variety of recent "terrorist" events around the world. In doing so, he pointed out inconsistencies in the official stories and potential signs of false flags. Dammagard ended what was a fine day on a high note and quickly became a favorite of the conference attendees.
Please follow and like us: