Please follow and like us: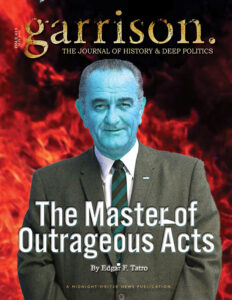 Available here: https://www.lulu.com/spotlight/MidnightWriterNews
Issue 013 of garrison.: The Journal of History & Deep Politics features Edgar F. Tatro's exclusive investigation on LBJ's most outrageous acts. No matter what you thought of LBJ before, Tatro argues that the real man was much worse. William Weston discusses the hunt for the Zodiac Killer and wonders whether the answers are found within the Art Linkletter home and the clues overlap with the Charles Manson case. Reprinted is a fine piece by the late John Judge on the real reasons for the War in Afghanistan and the late Mark Lane's interview regarding the Oklahoma City Bombing. OKCB expert Richard Booth looks at the important story of Timothy McVeigh and the Brown Pickup and Jose Galison argues that Kenneth Trentadue, an OKCB witness, did not kill himself. Jonathan Cook looks at the macro picture of what Tucker Carlson's break with FoxNews really signifies, and Caitlin Johnston looks at both the lacking Anti-War Movement and the unholy alliance between the U.S. Government and the U.S. Media. In the opening essay, S.T. Patrick looks at whether the adage that history repeats itself is true – and then wonders what this means if it is and isn't true.
Please follow and like us: