Please follow and like us: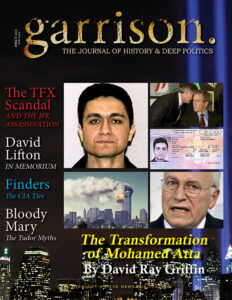 Available here: https://www.lulu.com/spotlight/MidnightWriterNews
172 Pages. Issue 012 of garrison.: The Journal of History & Deep Politics features David Ray Griffin's final new article for garrison, "The Miraculous Transformation of Mohamed Atta," a strong work of 9/11 scholarship. Griffin passed away in 2022 and he had previously given us permission to publish his archived work, and we will do so in future editions. Pat Speer also looks at the late JFK assassination researcher and best-selling author David Lifton, Edgar F. Tatro goes deep into the TFX scandal and the ways in which it led to Dallas, Boltzmann Booty investigates Roger Moore and 9/11, Robin Ramsay reconsiders Chauncey Holt, Larry Hancock continues his series on the RFK assassination, Elizabeth Lea Vos contributes the best available work yet on The Finders and the links to Intelligence, Larry Rivera introduces us to Carlos Gutierrez Menoyo, and Susan Abernethy dispels the myths of Bloody Mary. We also have Caitlin Johnstone on NATO and the failures of journalism, and S.T. Patrick on the real story behind the Kyrie Irving controversy.
Please follow and like us: