Please follow and like us:
116 Pages. PRINT OR EBOOK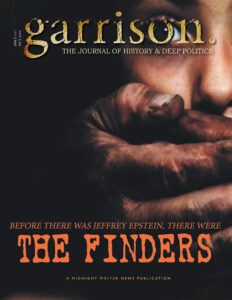 . Issue 011 of garrison.: The Journal of History & Deep Politics features John Brisson introducing us to The Finders, Ed Tatro on LBJ and the Silver Star Scam, William Weston on the CIA and the Texas School Book Depository, Jefferson Morley on Greenwald,Trump, and the JFK Files, Larry Hancock on the RFK assassination, Caitlin Johnstone on the war in Ukraine, Jonathan Cook on the propaganda that followed the Queen's death, David Ray Griffin on the 9/11 attack on the Pentagon, Kevin Ryan on Covid-era thinking, Richard Booth on Elohim City & the OKC bombing, Walt Brown's personal memories of meeting Richard Nixon in NJ in his final year, Jonathan Cook on Bush's war crimes, Caitlin Johnstone on what the UFO-U.S. Government news may really mean, and S.T. Patrick on Tulsi Gabbard: Independent.
Order here: https://www.lulu.com/spotlight/MidnightWriterNews
Please follow and like us: