Please follow and like us: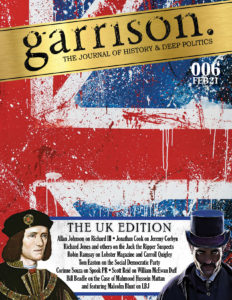 Buy it here in print or e-book PDF format: https://www.lulu.com/spotlight/MidnightWriterNews
232 pages. In the sixth issue of "garrison.: The Journal of History & Deep Politics," we counted on our friends across the Atlantic to take us into the deep politics of the UK. We look at 17 of the most popular Jack the Ripper suspects (Richard Jones, Richard C. Cobb, Michael Hawley), as well as the theory that there is no one "Jack" at all (Simon Wood). JFK assassination historian Malcolm Blunt looks at LBJ and George H.W. Bush, Jonathan Cook looks at the dubious fall of Jeremy Corbyn, Robin Ramsay takes us inside Lobster magazine and looks at Carroll Quigley, Bill Beadle questions the hanging of Mahmood Mattan, and we have Allan Johnson on Richard III, Corinne Souza on Spook PR, Tom Easton on the Social Democrats, and Scott Reid on William McEwan Duff. Returning with U.S. coverage is Richard Booth (OKC), Walt Brown (Oswald), Ed Curtin (Trump/Biden), James DiEugenio (Salandria Tribute), Don Jeffries (Trumpenstein), Caitlin Johnstone, Mark Crispin Miller (Masking), Phil Nelson (Harold Holt), Kevin Ryan (Gitmo), the late Vincent Salandria (Ruth & Michael Paine), and Ed Tatro (LBJ).
Please follow and like us: