Please follow and like us: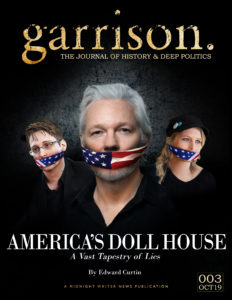 The third issue of garrison.: The Journal of History & Deep Politics has been released!
You can get the print version or the e-book PDF version at the LuLu page of Midnight Writer News Publications.
Some of the featured articles are as follows:
Cover Story: Edward Curtin, "America's Doll House: A Vast Tapestry of Lies"
Whitney Webb on Jeffrey Epstein and Intellience
Edgar Tatro on Earl Ruby, Jim Southwood, the Radical Right, & the NSA
David Ray Griffin, "9/11: The Killing of the First Responders"
David Talbot on Jeffrey Epstein
Joseph Green on fact & fiction in the film All the President's Men
Joseph Green's tribute to the late Paul Krassner
Richard Bartholomew on "Apollo Denial: The 'Moon Landing Hoax' Hoax"
Casey Quinlan, "Frontier Justice: JFK – A Targeted Kill"
Brian Edwards, "A Tactical Analysis of the Elm Street Ambush"
David Knight, "The JFK Assassination: A New Theory, A New Weapon"
Jim Hougan's three-part article on Jonestown (printed here in its entirety)
Kevin Ryan, "7 Questions to Evaluate 19 Suspects of 9/11"
Walt Brown, PhD on Earl Warren & Robert Mueller
William E. Kelly, Jr. on Valkyrie & Pathfinder in Dealey Plaza
Michael Chesser, MD on The JFK Autopsy Evidence (part one in a series)
Phillip F. Nelson on The McCains Mutiny
Larry Rivera on The Twin "Lee Oswald" Visa Applications
Keith Harmon Snow, the third and final part of his Genocide in Rwanda series
Robert Groden on Rose Cheramie
Michele Metta on Clay Shaw, The CMC, and the Stay-Behind Network
Two articles by Caitlin Johnstone
A reprint of Carl Oglesby's "A Program for Liberals" (with permission of Oglesby family)
… and more.
When ordering, please be careful to order the correct version (print or e-book). Both have the same cover.
Please follow and like us: