Please follow and like us: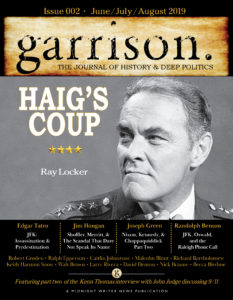 The print and e-book versions of issue 002 of garrison: The Journal of History & Deep Politics are available now at our LuLu page:
http://www.lulu.com/spotlight/MidnightWriterNews
The cover story is by author Ray Locker, who did a brilliant story on General Alexander Haig and the military spy ring that eventually brought down a president. This 128-page issue also includes:
Randolph Benson, "JFK, Oswald, & the Raleigh Connection"
Edgar F. Tatro, "JFK: Assassination & Predestination"
Kenn Thomas & John Judge, "The 9/11 Interview (Part 2)"
Jim Hougan, "Carl Shoffler, Robert Merritt, and the Scandal That Dare Not Speak Its Name"
Joseph E. Green, "Kennedy, Nixon, and Chappaquiddick (Part 2)"
Keith Harmon Snow, "Tutsi Hegemony: Genocide in Rwanda (Part 2)"
Caitlin Johnstone, "The Illusory Truth Effect: How Millions Were Duped by Russiagate"
Richard Bartholomew, "True Believers"
Prof. David Denton, "New Docs Reveal Extreme CIA Sabotage Proposals that Paralleled Operation Northwoods"
Malcolm Blunt, "Memories: A Tribute to Ian Griggs"
Becca Bledsoe, "Monsanto Loses in Court"
Walt Brown, PhD, "Warren Omission: Part II – Semantics"
Robert Groden, "How Gerald Ford Sold Out the Country and the Memory of President Kennedy"
Larry Rivera, "Fifteen Finds of the JFK Files"
Ralph Epperson, "Jimmy Carter, Zbigniew Brzezinski, and the Rise of the Trilateral Commission (Part 1)"
Caitlin Johnstone, "The First Democratic Debate: Summarized"
…. and more!
Please follow and like us: