Please follow and like us: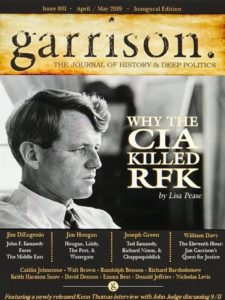 Midnight Writer News Publications has agreed to go with Lulu as a distributor for "garrison: The Journal of History & Deep Politics." That means that issue 001, our inaugural issue, is available once again for purchase in print form. The listing price is $11.99 and then you, the buyer, can choose from a variety of shipping options at various price levels.
Buy a PRINT copy of garrison, issue 001 by clicking this link
Why buy garrison, issue 001?
The cover story: "Why the CIA Killed JFK" by Lisa Pease
"Fighting the Establishment's Narratives" by Caitlin Johnstone
"JFK in Springfield" by S.T. Patrick
"2020: The Deep Political Realities" by Richard Bartholomew
"As Families Sometimes Do: It's Up to You" by Randolph Benson
"9/11: The John Judge Interview (Part 1)" by Kenn Thomas
"The Personnel File of William Harvey" by Prof. David Denton
"Hougan, Liddy, the Post, and Watergate" by Jim Hougan
"Kennedy Faces the Middle East" by Jim DiEugenio
"Ted Kennedy, Richard Nixon, and Chappaquiddick (Part 1)" by Joseph Green
"The Eleventh Hour: Jim Garrison's Quest for Justice (Part 2)" by William Davy
"The Warren Omission (Part 1)" by Walt Brown, PhD
"The FBI Considered Planting a Story Painting Ramparts as Anti-Semitic" by Emma Best
"The Condoleezza Rice-Philip Zelikow Connection" by Nicholas Levis
"The Hilo Tribune Herald Warning: A Commentary" by Douglas Horne
"Genocide in Rwanda (Part 1)" by Keith Harmon Snow
"The Disgraceful History of U.S. Government Experimentation" by Donald Jeffries
LuLu did a great job on the glossy cover. Its a nicer gloss and its a thicker cover than the original printing that was done locally. The only drawback is that they cannot print on the inside covers. They print as if its a book, with no inside cover printing. Other than that, looks great. The spectacular part of going with LuLu was that we could go with the perfect-binding (squared off and glued rather than stapled) binding. Now, you can put it on the bookshelf and see the spine. It looks great. Now is the time to get a copy, and order one for a friend or a family member.
Please follow and like us: