Please follow and like us: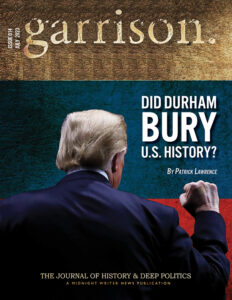 https://www.lulu.com/spotlight/MidnightWriterNews
Print & Ebook. Issue 014 of garrison.: The Journal of History & Deep Politics features Patrick Lawrence's stinging critique of the Durham Report, asking if John Durham has forever buried U.S. History. Edgar Tatro takes us through a decades-long journey through the JFK assassination research community, wondering how hope can still be passed on to a new generation. OKC bombing expert Richard Booth looks at the mysterious Robert Jacquez, including the controversy about the so-called John Doe #3 and the FBI's obsession with him. Whitney Webb unravels the tangled web between Noam Chomsky and Jeffrey Epstein, Meg Sherman shines a light on the UK's Priti Patel, and Donald Jeffries takes a macro approach to RFK Jr.'s candidacy in the context of the long Kennedy legacy and their historical battles with the MSM. James Perloff takes us back ninety years to the Panic of 1907 and delves deeper into J.P. Morgan, John D. Rockefeller, and how they profited from the financial mess they schemed to create. Caitlin Johnstone also looks at the value of truth and why propaganda works. S.T. Patrick wonders about the future of the JFKA community and discusses needing a breather from its most toxic personalities and behaviors.
Please follow and like us: