Please follow and like us: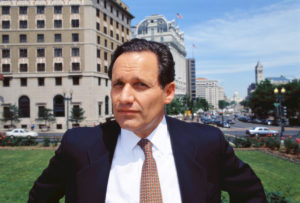 by S.T. Patrick
Though Bob Woodward has now been replaced by Tucker Carlson atop The New York Times list of hardcover nonfiction bestsellers, his newest book Fear: Trump in the White House remains a major topic of conversation within and beyond Washington D.C. S.T. Patrick continues his series on Woodward and his monarchical hold on modern journalism by profiling The Washington Post associate editor's work throughout the 1980s. This is the third installment in the series.
* * * *
Though the Republican Party seemed all but dead after Watergate, the pardon of Richard Nixon, and the 1976 electoral loss of the unelected president, Gerald Ford, to Gov. Jimmy Carter, the Eighties were a new decade, one that would attach the word "era" to the politician that dominated its most crucial moments, Ronald Reagan. For journalist Bob Woodward, the fall of the GOP had made a legend. The rise of the Reagan Era, however, would prove that legends are highly fallible, even in the world of journalism, where kings are rarely dethroned.
In September 1980, reporter Janet Cooke wrote an incredibly moving and emotional piece for the Post entitled "Jimmy's World." Cooke detailed the heartbreaking story of an eight-year-old heroin addict. So captivating was the story that Woodward, then the Post's assistant managing editor, nominated it for a Pulitzer Prize. In April 1981, it won. Cooke would later have to return the Pulitzer as it was revealed that the story had been a fabrication. Rather than making an apology, Woodward defended the merits of the story and removed himself from any responsibility for the nomination.
"I think that the decision to nominate the story for a Pulitzer is of minimal consequence," Woodward told Post ombudsman Bill Green. "I also think that it won is of little consequence. It is a brilliant story—fake and fraud that it is. It would be absurd for me or any other editor to review the authenticity or accuracy of stories that are nominated for prizes."
In 1984, taking a brief respite from political tomes, Woodward released Wired: The Short Life & Fast Times of John Belushi. Both Woodward and Belushi had been raised in Wheaton, IL. Riding the wave of notoriety he had amassed after Robert Redford's portrayal in All the President's Men, Woodward convinced Belushi's friend Dan Aykroyd, brother James Belushi, widow Judith Belushi Pisano, actress Blair Brown, and others to sit for interviews in preparation. For those who had known and worked alongside him, the memories of Belushi, who had died of a drug overdose in 1982, were fresh.
When Wired was released, Belushi's friends, family, and co-stars felt betrayed. Because Belushi had disliked Nixon and had liked Woodward's work, his widow had turned to the Post editor and bestselling author when she had questions about the LAPD's handling of the death. What Woodward did was to take the story and create a very critical, drug-fueled, exaggerated narrative of Belushi's stardom.
Aykroyd called it "exploitative, pulp trash," Brown said she had been "tricked" by Woodward into describing the preparation of a love scene on the set of Continental Divide, and Pisano felt completely betrayed. Belushi's manager had even stated that the book was so wrong that it made you think Nixon might have been innocent.
In 2004, Tanner Colby partnered with Pisano to write Belushi: A Biography. In doing so, Colby went page-by-page through Wired, re-interviewing every possible source and re-reporting every Woodward anecdote.
In a 2013 article for internet news site "Slate.com," Colby described Woodward's methodology: "Once you have the facts, you have to present those facts in context and in proportion to other facts in order to accurately reflect reality. It's here that Woodward fails."
Veil: The Secret Wars of the CIA, 1981-1987 marked Woodward's return to home base, the world of D.C. politics. Having roundly suffered what he believed was unfair criticism for Wired, Woodward may have thought his political wheelhouse would harbor a safe return to the accolades and fame of a decade before.
Veil includes one of the most hotly debated scenes ever written by Woodward. In it, former CIA director William Casey lies near-death in a hospital bed at Georgetown University Hospital. Woodward makes his way into the room and asks Casey if he had known about the illegal diversion of profits from Iranian arms sales to the Nicaraguan Contras. Casey's head "jerked up hard. He stared and finally nodded yes," Woodward wrote. "Why?" Woodward puzzlingly asked. Casey paused and whispered, "I believed."
Kevin Shipp, a former member of Casey's own security detail, wrote that none of the agents standing guard would have allowed Woodward into the room. He also noted that the former CIA director was not able to speak at the time of Woodward's Q&A. Casey's daughter, Bernadette Casey Smith, told the Houston Chronicle that Woodward "never got the deathbed confession."
While the Casey story seems clearly like fantasy, The New Yorker's John Cassidy, in describing both Veil and other Woodward work, discussed his faults in a more muted, yet specific way. "The real rap on Woodward isn't that he makes things up," Cassidy wrote. "It's that he takes what powerful people tell him at face value; that his accounts are shaped by who cooperates with him and who doesn't; and that they lack context, critical awareness, and, ultimately, historic meaning."
The Nineties would bring a return to Watergate and, for Woodward, a kinder, gentler Democratic administration. But in the new millennium, 9/11, multiple wars and the George W. Bush administration would be just the combatant-like foes that Woodward would need to rebuild a legacy he had self-tarnished in the Eighties and failed to recover in the Nineties.
Please follow and like us: