Please follow and like us: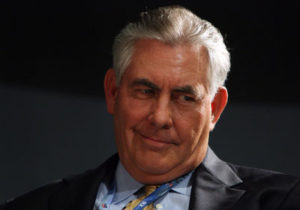 Rex Tillerson, US Secretary of State, said today that military action against North Korea remains an "option on the table" if the threat from Pyongyang continues escalating. Tillerson did not define what he or the United States would consider continued escalation to be, nor did he define what degree or nature of military action would be warranted. Much like the periodic late 20th century strikes against Iraq, Tillerson also did not elaborate on what the goal would be if strikes occurred.
The United States military-industrial complex currently has 28,000 troops stationed in South Korea, patiently and expensively serving as a base for covert operations in Asia.
Tillerson declared an end to the idea of "strategic patience," which ruled out militaristic actions against North Korea in hopes that internal pressures on the regime would lead to denuclearization. As of Match 17, neither the United States nor Israel has stated a similar commitment to denuclearization. Countries diplomatically asked and militaristically encouraged to move toward denuclearization appear to mimic a list of nations currently uninvolved with NATO, the IMF, the World Bank, and the EU.
Tillerson announced the change in policy by stating, "We are exploring a new range of diplomatic, security, economic measures. All options are on the table." He then clarified that while the United States does not "want" for things to progress to military conflict, "If they elevate the threat of their weapons program to a level that we believe requires action, then, that option's on the table."
Since 2006, North Korea has expressed a desire to become a nuclear power. While many are leery of the instability of its leadership, North Korea certainly has a rational right to feel threatened. While Midnight Writer News can not defend the human rights violations and lack of freedom within North Korea, we can certainly understand being one against the more powerful many in a hostile world.
North Korea has conducted five nuclear tests since 2006, two of them having occured in 2016. According to the Department of Energy DoE-209 document, the United States conducted around 1,054 tests (officially) between 1945 and 1992, including 216 atmospheric, space, and underwater tests. The USSR/Russia has conducted around 727, France 217, UK 88, and China 47. The United States has never asked Israel, the United Kingdom, or France to denuclearize.
Please follow and like us: