Please follow and like us: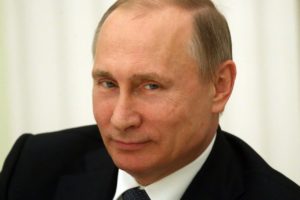 In an interview with NBC's Megyn Kelly, Russian President Vladimir Putin linked the Deep State operatives of the Kennedy assassination to organizations he believes are covertly attacking and then blaming Russia today. "There is a theory that Kennedy's assassination was arranged by the United States intelligence services," Putin told Kelley. "So if this theory is correct, and that can't be ruled out, then what could be easier in this day and age than using all the technical means at the disposal of the intelligence services and using those means to organize some attacks, and then pointing the finger at Russia?"
Regarding allegations that Russia meddled in the 2016 U.S. election, the Russian president said, "Put your finger anywhere on a map of the world, and everywhere you will hear complaints that American officials are interfering in internal electoral processes… Every action has an equal and opposite reaction. But, I repeat, we don't even have to do that. Presidents come and go, and even the parties in power change, but the main political direction does not change."
It would be foolish to quickly dismiss Putin. Educating Americans to believe their government is truthful while all others lie to protect their own interests is an antiquated propagandist tactic. As much as it may still be entrenched in our reflexive jingoistic view of the geopolitical landscape, even the most "patriotic" citizen should realize that it cannot be logically correct.
Vladimir Putin has often made statements that Americans reject at first. The execution of American operations abroad is a familiar topic to the Russian president. You will hear Americans say preposterous things like, "Of course he is saying that… He is Russian and they don't like America." That is not the strategic realism of the world. Rather, that is the overly simplistic Hollywood patriotism that fueled farcical Cold War films (propaganda) like Rocky IV. Putin can be criticized for some of his actions as well as his words, but he should not be dismissed merely for engaging in the act of speaking.
Please follow and like us: